Skip to Content
Cutting-Edge Approach to Treating Keloids
If you have excessive amounts of scar tissue as a result of a surgery or from a traumatic scar, you have what is referred to as keloids. Common areas for keloids are the ears, back, and chest. Keloids usually result from minor surgeries, such as skin biopsies, or even ear piercing, as well as from more complicated surgeries, such as cardiothoracic surgery. Keloids used to be treated through excision (cutting them out), but this usually just resulted in the creation of larger keloids.
Our practice traditionally didn't treat keloids out of concern for making them worse. In the past, we treated them using intralesional steroids, which took a longer period of time (many months) to see results and often didn't work. Today, however, Hacker Dermatology has one of the most cutting-edge approaches to treating keloids for our Delray Beach area patients. The advent of superficial radiation therapy has forever changed how dermatologists treat and remove keloids. It has given hope to many patients who may have been previously told that they had no other options.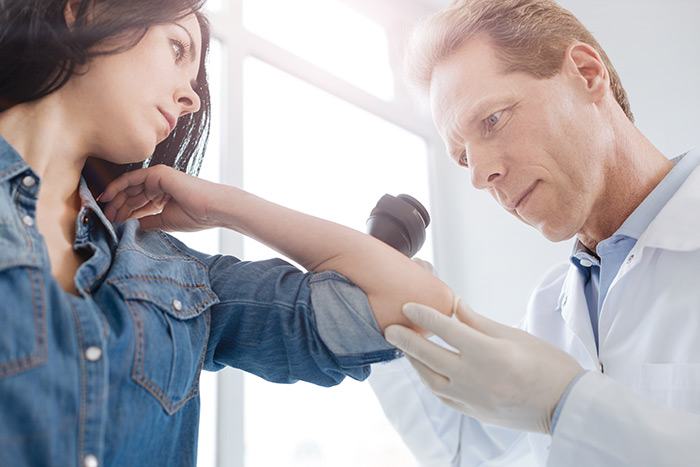 How Our Keloid Removal Process Works
Hacker Dermatology takes a multidisciplinary approach when it comes to the treatment of keloids, meaning usually more than one physician specialty is involved in their removal. We incorporate dermatology, plastic surgery, and radiation therapeutics to successfully treat keloids. This was not previously conceivable when we first started practicing dermatology over 25 years ago.
First, our team of physicians will consult the patient to evaluate and confirm that their keloids can be treated. Once we've determined that, we'll schedule the patient for excision by our plastic reconstructive surgeon. Immediately following your excision, on day #2, we'll then treat the patient's surgical site with three consecutive days of radiation. The combination of plastic surgery excision and immediate post-op superficial radiation therapy usually results in effective treatment of the keloid nearly 80-90% of the time. It's not 100% guaranteed, but it's the closest we can get these days and has radically changed the life outlook for patients plagued by keloids.
Request a Keloid Removal Consultation
If you'd like to learn more about our procedures for keloid removal in our Delray Beach office, please contact Hacker Dermatology today to request a consultation. Our doctors will determine whether or not you're a good candidate for this procedure.
Request an Appointment Today
New Patients Welcome!