Skip to Content
Smoker's Lines and Facial Lines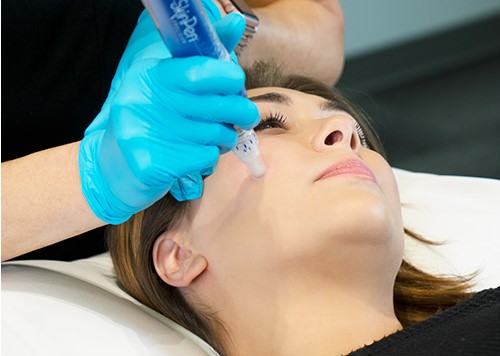 GET STARTED
Microneedling is your new best friend when it comes to combatting the appearance of Smoker's Lines and Facial Lines. Ask for SkinPen® by name to get the impressive results demonstrated by our clinical study and the safety of the first FDA-cleared device.
Here's what you can expect from a SkinPen treatment:
A plan for optimal results. Your physician may recommend a course of procedures based on your individual goals. Maintenance of your procedure might require multiple treatments.
A comfortable procedure. Based on your needs, your physician will likely apply a topical numbing agent to the treatment area.
A short procedure time. The treatment will likely take about 30 minutes.
A mild sensation. Most patients report feeling only the slight vibration of SkinPen during the procedure.
Minimal post-procedure effects. The skin will appear slightly pink to red immediately post-procedure, similar to a mild to moderate sunburn. Additionally, the most common treatment responses experienced were dryness, rough skin, tightness, redness, itching, peeling, discomfort, tenderness, and burning. These conditions resolved over time without any further complications. Please see patient labeling for detailed safety information.
Soothing aftercare. Your clinician will provide Skinfuse® LIFT, a clean, non-cytotoxic hydrogel used to prevent the skin from drying out post-treatment.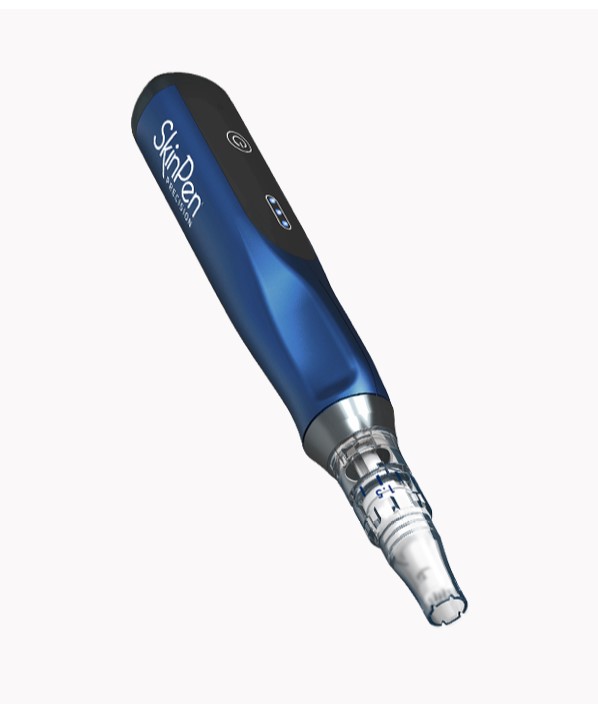 How Microneedling Works
SkinPen by Bellus Medical is the first FDA-cleared microneedling device.
It causes controlled micro-injuries that stimulate your body's natural wound healing process, while minimizing cellular damage. The result is effective remodeling of scar tissue, while keeping the overall structure of the skin intact)
There are three phases to the wound-repair
process:
Phase I: Inflammation. Piercing the skin triggers your immune system to disinfect the wounds, remove debris, increase blood flow and begin to create new tissue.
Phase II: Proliferation. The wound is rebuilt with new granulation cells, which are part of the extracellular matrix. Additionally, a new network of blood vessels develops.
Phase III: Remodeling. The wound is replaced with new dermal tissues and blood vessels.
Best of all, SkinPen works. Ninety percent of subjects in the clinical trial would recommend the procedure to family and friends.
PLATELET RICH PLASMA (PRP)
OFF LABEL USES IN DERMATOLOGY
This is now a commonly used treatment in dermatology but it is "off label" use as PRP , though used in other specialties has not been FDA approved for use in dermatology.  Nonetheless it is commonly used with this understanding.
We use prp in our practice to treat, either topically applied or physician injected:
1.) Aged, wrinkled skin- regenerate damaged and aged skin-on the face, around mouth and décolleté (above breasts on chest)
2.) Acne scarring
3.) Alopecia- used for hair follicle activity and regrowth of hair
Most often we use prp following microneedling. See our microneedling page.
HOW IT WORKS
Platelet Rich Plasma, also known as "PRP" is an injection where your own blood is used. Approximately 10- 20 cc (2 Tablespoons) of blood is drawn up into a syringe. The blood is spun in a special centrifuge to separate its components (Red Blood Cells, Platelet Rich Plasma, Platelet Poor Plasma and Buffy Coat). When PRP is injected into the damaged area it causes a mild inflammation that triggers the healing cascade. As the platelets organize in the treatment area they release several enzymes to promote healing and tissue responses including attracting stem cells and growth factors to repair the damaged area. As a result, new collagen begins to develop. As the collagen matures it begins to shrink causing the tightening and strengthening of the damaged area. When treating injured or sun and time damaged tissue, they can induce a remodeling of the tissue to a healthier and younger state. The full procedure takes approximately 45 minutes to an hour. Generally, 2-4 treatments are advised, however, more may be necessary for some individuals. Touch up treatments may be done once a year after the initial group of treatments to boost and maintain the results.
Safety
PRP'S SAFETY has been established for over 20 years for its wound healing properties and it's proven effectiveness has extended across multiple medical specialties including cardiovascular surgery, orthopedics, sports medicine, podiatry, ENT, neurosurgery, dental and maxillofacial surgery (dental implants and sinus elevations), urology, dermatology (chronic wound healing), and ophthalmology, cosmetic surgery. All skin tones show that PRP is safe and effective because your own enriched plasma is used.
BENEFITS OF PRP
Along with the benefit of using your own tissue therefore eliminating allergies, there is the added intrigue of mobilizing your own stem cells for your benefit. PRP has been shown to have overall rejuvenating effects on the skin including: improving skin texture, thickness, fine lines and wrinkles, increasing volume via the increased production of collagen and Elastin, and by diminishing and improving the appearance of scars. Other benefits include: minimal down time, safe with minimal risk, short recovery time, natural looking results; no general anesthesia is required.
CONTRAINDICATIONS
PRP used for aesthetic procedures is safe for most individuals between the ages of 18-80. Parental Consent required. for patients under 18. There are very few contraindications, however, patients with the following conditions are not great candidates: 1) Acute and Chronic Infections 2) Skin diseases (i.e. SLE, porphyria, allergies) 3)Chronic Liver Pathology 4) Patients that need to be aspirin, and Systemic use of corticosteroids within two weeks of the procedure.
RISKS & COMPLICATIONS
Some of the Potential Side Effects of Platelet Rich Plasma include: 1) Pain at the injection site; 2) Bleeding, Bruising and/or Infection as with any type of injection; 3) Short lasting pinkness/redness (flushing) of the skin; 4) Itching at the injection site(s); 5) Swelling; 6) The treatment not working on you
ALTERNATIVES to PRP
Alternatives to PRP are: 1) Do Nothing; 2) Surgical intervention may be a possibility; 3) Injections with neurotoxins; 4) Injections of dermal filling agents; 5) Laser & light-based treatments like Pulsed Light; 6) chemical peels.
RESULTS
Results are generally visible at 4 weeks and continue to improve gradually over ensuing months (3-6) with improvement in texture and tone. Advanced wrinkling cannot be reversed and only a minimal improvement is predictable in persons with drug, alcohol, and tobacco usage. Severe scarring may not respond. Current data shows results may last 18·24 months. Of course, all individuals are different so there will be variations from one person to the next
Request an Appointment Today
New Patients Welcome!