Skip to Content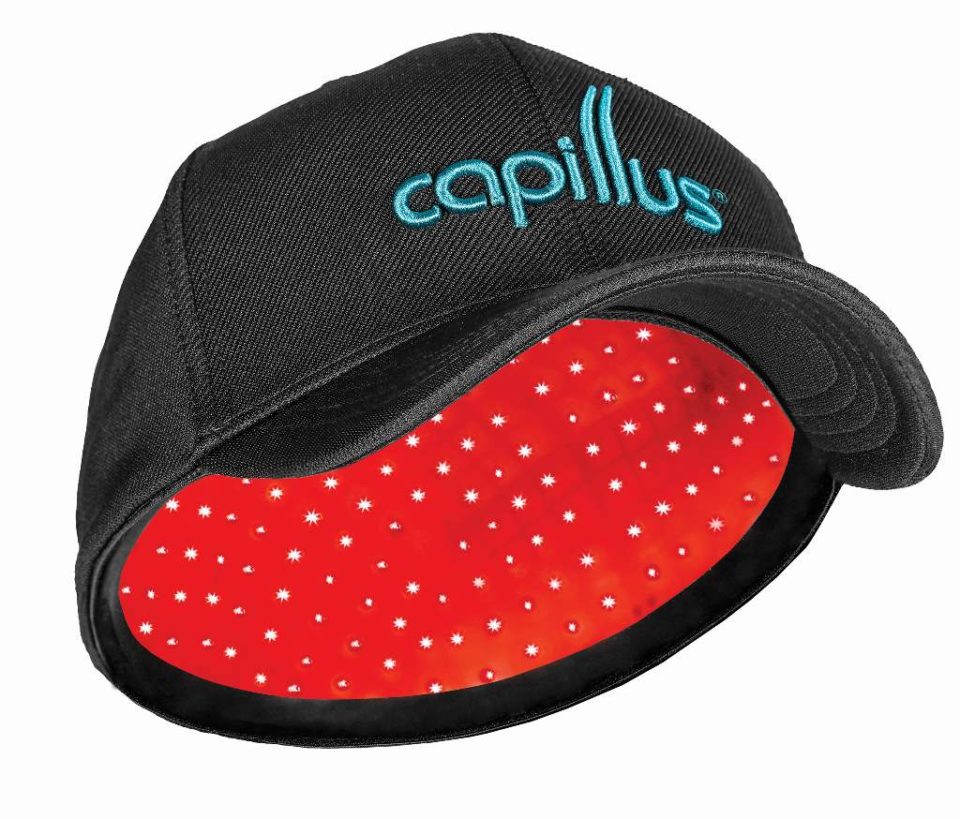 CapillusPRO™ – Mobile Laser Therapy Cap
The CapillusPRO™  (formerly the Capillus272 Pro) laser therapy cap, manufactured in the USA by Capillus® *, provides you with a safe and easy-to-use method for restoring thinning hair due to androgenetic alopecia (hereditary hair loss), and preventing hair-loss progression. The CapillusPRO features 272 5mW laser diodes which provides superior coverage of the affected scalp area with each session. The CapillusPRO is FDA-cleared for both men and women who suffer from pattern balding. Flexible and comfortable, you can use the CapillusPRO at home or on-the-go. For just six minutes a day, you can apply this non-invasive, low-level laser therapy to help prevent hair loss, promote hair regrowth, and get healthier-looking hair. The long-lasting, rechargeable Lithium-ion battery and hands-free operation give you the freedom to go about your daily routine while receiving treatment.
Features:
Comfortable, flexible fitting design
272 Laser Diodes (no LEDs)
1360mW total output
4 mW/cm2 fluence
Auto-programmed treatment sessions
Mobile, hands-free operation
3-year warranty
Benefits:
May reverse the process of hair loss
Safe and effective for treating hair loss due to heredity
Treats thinning hair and balding
Nurtures fuller, healthier looking hair
Revitalizes damaged hair
Easy to use & no reported side-effects
Clinically Proven Results:
Over 95% of active clinical study participants had an increase in hair counts within 17 weeks.
Active study participants showed 51% more hair within 17 weeks.
Results described here are for the CapillusPro model for which an independently-reviewed, double-blind clinical trial study was conducted[1].
[1] Clinical trial results for CapillusPro, registered at www.clinicaltrials.gov
How to Use:
Wear for just 6 minutes every day under a sports cap. Its ease of use encourages compliance for maximum results. You can wear the device with the provided hat or any other hat of your preference. It works for both men and women by providing laser therapy to the follicles on the scalp by treating hair loss and hair thinning at home or on-the-go without medication, surgery, or reported adverse side-effects.  If you begin treatment during the earlier stages of progression, the CapillusPRO™ can reduce further hair loss and regrow the hair that has begun to thin.
What to Expect:
Keep in mind that it takes time for hair to grow. You will not notice results immediately as it takes time to restore follicle health and then for the new strands of hair to grow. We recommend you take pictures of your scalp before you begin treatment, so you can effectively keep track of results.
The following is a general guideline of what to expect in your hair restoration journey.
0–3 Months:The first thing you may or may not notice is an increase in shedding. If this is the case, don't worry. Initial hair shedding is actually a sign that the treatment is working – indicating that new anagen hairs are pushing out the older hairs to make way for healthy new shaft of hair. Some itchiness might be experienced at this point in the process as the arrector pili muscles linked to the follicle contract.
3–6 Months:Next, you will begin to notice a decrease in hair loss. After the first few weeks of using your device according to the instructions, you will notice that hair is not shedding as much as previously. Do not be discouraged if you don't see significant change. Keep in mind that preventing progression of hair loss is in itself a success. You may notice that your hair is slightly fuller in the areas that you had noticed thinning.
12 Months:This is the time to evaluate the results of laser therapy. We recommend you take another set of pictures and compare to those you took at the beginning.
24 Months +:This is when you should see the greatest and most impactful results. Expect to see the most you can get from Capillus laser therapy at this point. For as long as you continue to comply with laser therapy, you should maintain a fuller head of hair and reduction of hair loss.
Request an Appointment Today
New Patients Welcome!